In print: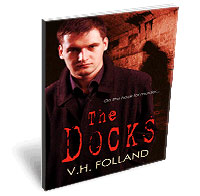 Size: Mass Market Paperback
Pages: 96
ISBN: 978-09569198-0-9
Publisher: Ragged Angel Ltd
Distributor: Central Books
"a throwback to the days of Dashiell Hammett and Mickey Spillane...Those guys knew how to mix character development and action together and so does V. H. Folland."
Marvin, Goodreads.
"The Docks" the well-reviewed crime novella by VH Folland, is coming out in paperback in November 2011. A slim mass-market paperback, it is on shelves at £4.99.
It is now available from Waterstones. If you can't find it on the shelves, you can order it online or instore.
Or read The Docks in Ebook: