The Docks by VH Folland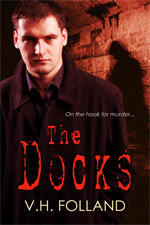 Harry's in more trouble than he knows, and he knows he's in a lot.

His freedom depends on covering his tracks, and uncovering the truth before the police do. One person holds all the pieces. Unfortunately Harry killed him last night.

Murder, manslaughter or self-defence? When Harry agreed to a light spot of arson, he didn't know what was really planned. Then the bomb went off. Now he's confessed to burglary, could be on the hook for murder and is desperately trying to dodge a terrorism charge. On his side, a bunch of crooks and the solicitor he's dubbed Ms. Pitbull. Against him are his former accomplices, the police, and the inspector who sent him down for ten years.
"I definitely recommend The Docks for a fast, entertaining read! How else can you get a glimpse into a life of crime without ever having to pay a lawyer or wear an orange jumpsuit?"Gathering Leaves Reviews