About the Book: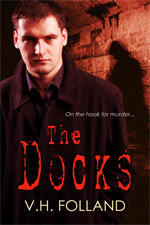 "a throwback to the days of Dashiell Hammett and Mickey Spillane...Those guys knew how to mix character development and action together and so does V. H. Folland."
Marvin, Goodreads.
The Docks is a crime novella, set in Britain.

Published as an ebook in multiple formats including Kindle, PDF and Nook, The Docks is the first is a series of crime novellas by VH Folland.

It is available for $0.99, or the equivalent.

As well as the stores mentioned below it is available from Apple, Sony, Kobo and others.